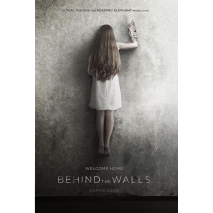 Source: Dread Central
Posted on July 31, 2015 by Debi Moore
Go Behind the Walls for Some Intimate Horror
Word of a new film titled Behind the Walls landed in our inbox, and with the promise of some "true terror" heading our way, we thought we'd share the early details, a few stills, and the poster.
The Kondelik brothers, Jon and James (who produced The Divine Tragedies), are set to direct their first movie in the horror genre, Behind the Walls, which takes a different look at the haunted house sub-genre. The film, currently in post-production, will look at events from the perspective of the home itself.
Vanessa Angel ("Weird Science"), Hutch Dano (Zombeavers), Reggie Lee (NBC's "Grimm"), Lew Temple (AMC's "The Walking Dead"), and Bailey Spry (It Follows) star; and this experienced horror cast will bring true terror to the screen later this year.
Behind the Walls marks the twin Kondelik brothers' first film under their Dual Visions banner with more to come. "We aim to put a new spin on a familiar genre," says James Kondelik, "bringing the audience into a new head space."
Jon Kondelik added: "We've often referred to this film as 'intimate horror'; whereas, everything from the pacing to the performances and tone feels very personal."
Look for a trailer soon, and in the meantime learn more on the film's Facebook, Twitter, andInstagram pages.
Synopsis:
Years it has waited. Now, someone has moved in. Through the eyes of the evil within, we witness a broken family desperately seeking a new beginning in a new home. But this house lives, watches, and wants them to stay… FOREVER.